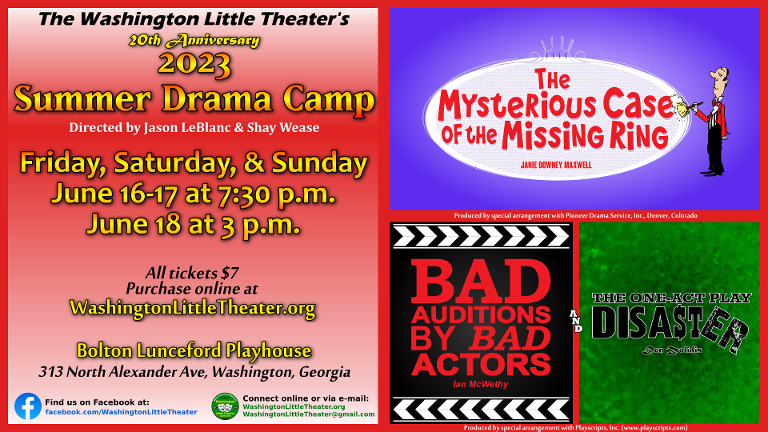 Join us as we celebrate 20 years of youth theater education through our Youth Summer Drama Camp program!
After working hard for two weeks learning theatre skills and rehearsing their own productions, the 2023 class of Junior and Senior Campers are excited to show us what they've learned by performing their plays!
Senior Campers (grades 8-12) Play #1: BAD Auditions by BAD Actors
A casting director has one day to find the leads for a community theater production, but what seems like a simple task proves impossible when the pool of actors includes extreme method actors, performers who just don't know what to do with their hands, and one particular woman who may or may not think she's a cat. This hilarious comedy will bring you to the last place you'd ever want to be...behind the doors of a casting session!

Senior Campers (grades 8-12) Play #2: The One-Act Play Disaster
Pulling off a heist is pretty tough, but that's nothing compared to pulling off an unauthorized adaptation of a popular heist movie onstage! Everything that can go wrong, will go wrong when you've got a light board operator out for revenge, a dollar-store set, and a cast that's a total mess! The smooth-talking con man has crippling stage fright, the acrobat is completely uncoordinated, and the understudy keeps reading all the stage directions out loud. Can the group survive a run-through? It might be a total disaster, but it will definitely be hilarious.

Junior Campers (grades 3-7): The Mysterious Case of the Missing Ring
The royal ring is missing, and the queen won't sleep until the royal detectives (all 13 of them!) find it. You've never met a more eclectic and eccentric group all in one play! As they scour the Queendom in search of the royal ring, the chatty maids follow the harried queen around while the devious butler spouts suspiciously evil laughs every time a clue goes awry. This delightful, fast-paced, madcap mystery is full of comedy for all ages and a surprise ending that rings true!
Performances are June 16, 17, & 18. Tickets are only $7.
---